Tsai Shens Gift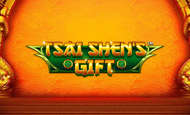 Tsai Shen's Gift By Rarestone Gaming
Tsai Shen's Gift is an Asian inspired slot developed by Rarestone Gaming, featuring a beautiful oriental themed aesthetic and some exciting perks. This slot is bursting with colour, oriental flags and lanterns to create a vibrant and consistent theme which is certainly easy on the eye, and completely compatible with all mobile and desktop devices. Working with a high RTP of 96.5%, you can get your hands on some great payouts in this slot, including big wins such as 2,000x your stake. *All values mentioned in relation to this game are subject to change at any time. You also have a great chance of accessing some fantastic bonus features, including Mega Wilds 3x3, Free Spins, Locked Wilds and Respins. Try it for yourself here at RoseSlots.ie on mobile or desktop, with 500 Free Spins added to your first bet as a new player.
Asian Inspired
Tsai Shen's Gift is entirely focused on asian culture as a theme, bringing some very appealing graphics and visuals. This oriental inspired slot features lots of colour, chinese lanterns and beautifully designed symbols to brighten your reel. There is a standard design of 5 reels and 3 rows, filled with colourful lanterns, flags and other icons of asian culture. There is a wide range of symbols to this slot, including bonus symbols, mega symbols and lots of animation. This slot is also based around high variance, designed to help players out with their wins. This online slot has 5 reels and 50 betways, which is super generous to work wonders for your chances of winning. This is actually double the usual payline system used for a 5 reel slot, which is proven to be a huge success in the high 96.5% RTP rate.
Tsai Shen's Gift gives the gift of high value wins, including a whopping 2,000x your stake multiplier jackpot. This win comes with the help of a variety of bonus features and a high RTP, so things are looking fairly promising. With payouts as high as 2,000x, your stake does not necessarily need to be high in order to win big. The maximum limit of betting in this game is a high €500 per spin, welcoming some rarely available betting strategies into this online slot. *All values mentioned in relation to this game are subject to change at any time. It seems that this game scores high marks in all areas of slot value – from the high variance, even higher jackpots and complete control over your betting style.
Fun Bonuses
Tsai Shen's Gift is a Fire Blaze Respin slot, which means you can expect to activate the famous lock and spin bonus round – which features like symbols and re-spins designed to encourage not only a win but a high-value jackpot win. There is a second bonus round to this game called the free spins bonus feature, made even more exciting with the use of mega symbols to make these free spins go the extra mile and encourage wild paylines. There is a strong variation of bonus features in this game, which all contribute to a higher rate of variance to hit the 2,000x win. *All values mentioned in relation to this game are subject to change at any time.