TikiPop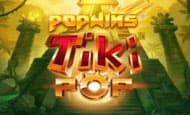 Tikipop is a Hawaiian themed UK slot developed by Yggdrasil Gaming, featuring an action packed gameplay which is full of high variance and bonus features. This slot goes far higher and beyond all other games, exceeding expectations and fulfilling everything you could want from an online slot. 
TikiPop Slot
You can set your sights on some wonderful wins up to 32,000x your stake, which is an incredible multiplier which can work wonders with any stake you set. Helping you get there is over 33,000 ways to win, which is far higher than any other regular 5 reel slot. On top of all of this, you can enjoy a huge range of bonus features which include everything from Free Spins, Multipliers, Gamble Features and more. Play online across all devices here at RoseSlots.ie to take advantage of our welcome offer, where you can receive 500 Free Spins on your first stake as a new player.
Hawaiian Paradise
Tikipop is designed around a Hawaiian theme, complete with a vacation style aesthetic. This is essentially a virtual vacation, taking you to tropical islands on the hunt for high value payouts. The graphics are designed by Yggdrasil, who are known for their brilliant visuals which always stand out from all other games. The physical layout of the reel also stands out from other slots, being 5 reels wide and just 2 rows high. This may give the impression of this slot being simple, but you could not be more wrong about this game. The payline system and game mechanic itself is completely unordinary, working with various features within the main game to give you a unique gameplay with a great variance. Firstly, you are working with an abnormal number of 33,614 ways to win which is far higher than any other 5 reel game. This is possible through the use of avalanche reels and other helpful mechanics, which make winning even easier than ever before.
Huge Win Potential
Tikipop is perhaps one of Yggdrasil's best designed slots in terms of payouts and how you win them, as there are many ways to win. There is a huge jackpot of up to 32,000x your stake which is sure to blow you away. With a maximum win of up to €50 per spin, you can see that there is real potential to win big here. With a strong RTP of 96.1%, what could go wrong?
Many Features
TikiPop certainly does not hold back on the bonus features, giving you a huge range of bonus additions to keep things exciting. This includes an avalanche reel in the main game, with cascading effect across the slot. There is also a brilliant free spins bonus game, which comes with unlimited free spin potential and even an unlimited win multiplier. What's more, this UK slot has its own PopWins game mechanic which makes the online slot volatile and full of action. For higher payouts at the end of every win, opt into the gamble feature to potentially double your payouts.