Tigers Pride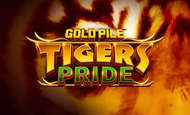 Tiger's Pride is an animal themed UK slot developed by Playtech, as part of their popular Gold Pile series which features unique bonus features and an all-new game style. Playtech are responsible for some of the best slots known to this online slots casino, and this game is the perfect example of why. 
Tigers Pride Slot
Not only is the theme unique and a perfect choice for animal lovers, this game has far more to offer than the average slot. Working with an above average chance of winning, there is scope to win a whopping €2million in this super high value slot - made a little easier with the inclusion of added bonus features such as free spins and bonus bet features. Try your luck and join the pride here at RoseSlots.ie, and take advantage of our welcome offer to gain 500 free spins on your first stake. 
Animal Safari Fun
Tiger's Pride is based on a sunset safari setting, full of big cats and other animals. With a beautiful design of animals and nature, this slot is the ultimate choice for lovers of tigers and wild animals. The graphics of this game are very impressive, bursting with colour and even animated to bring the theme to life. Enjoy the beautiful visuals on your choice of device, as this slot stretches from mobile to desktop devices with complete ease. The aesthetics of this slot are similar to the Lion King, a popular movie we all know and love. The design of this slot is accessible by all players, as it follows the traditional format of 5x3 reels and rows. The betway system offers 25 fixed ways to win, which make use of all directions to give you more than enough chances to match those symbols - the ultimate aim of the game. 
Win €2million
In Tiger's Pride, there is one thing which no player can deny their appeal to - the payouts. There is the chance to win a huge value of a €2million jackpot, which does not exactly come around in every online slot UK. Not only this, you also have the rarely high RTP of 96.47% to help you get there, meaning you have an extra high volatility on your side before the bonus features even begin. Lastly, you can also bet up to a high maximum of €5000, which makes this slot perfect for those looking to spread their wings and get creative with their betting style.
Free Spin Bonuses
Tiger's Pride makes use of some fantastic bonus features, which work alongside an already high variance to increase your chances even more. The main feature of this slot is the Free Spins Bonus Round, which will give you 25 free spins for every scatter payline you make. Another feature is the symbol collection feature, which is in action throughout the entire game - simply collect a certain number of symbols and you can unlock extra benefits, including access to the free spins feature and even extra payouts.