Ted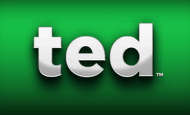 Ted is a movie inspired UK slot developed by Blueprint Gaming, which is centred around a humorous bear character. If you have seen and enjoyed the film, then this slot will bring lots of enjoyment as there are so many references to the movie plot and characters throughout this bonus packed slot.
Ted Slot
 This game, like many other Blueprint slots, is best known for offering more bonus features than any other slot. This game features a huge range of bonus features, including Bonus Wheels, Free Spins and a lot of wild features. There is a bonus symbol or feature around every corner in this online slot, which adds action and adventure to this light-hearted slot. Play all of these bonus features here at RoseSlots.ie, with a welcome offer available to give 500 free spins for your first stake placed. 
Humour & Fun
Ted may show a familiar face or two, as it is based on a popular blockbuster movie. Blueprint Gaming are the go-to developers for turning familiar movies into hit slots, and this just may be theri most successful and popular to date. This slot features characters taken from the movie, including the lovable Ted character himself. There are plenty of humour references used across this slot, bringing a light-hearted theme to the game. In terms of format, there is nothing too complex about this slot. The 5 reel by 3 row design keeps things basic, easy to follow and even welcoming of beginner players. In terms of variance, this slot is looking fair with a fixed payline pattern of 20 ways to win - this is enhanced even more when the many bonus features begin to spring into action. 
Win €100K
Hitting the jackpot in Ted can bring great things, including cash payouts up to €100,000. This adds a serious level of value to this slot, which is helped out through the use of Multipliers and bonus features. The maximum stake limit of this UK slot is a nice €200 per spin limit, which gives you lots of control over your gameplay - and offers the chance to win big across the slot. With a 95.18% RTP rate on your side, the variance of this slot looks fair even before the bonus features activate. Remember, this slot goes beyond making paylines and offers more than one way to win payouts - and it is all in the bonus features.
Lots Of Features
Ted is known for offering a wide range of bonus features, which give you extra pushes towards big payouts and provide a much more advanced style of gameplay. The Bonus Wheel Feature adds extra ways to win cash, free spins, wild features and other benefits. The Free Spins Bonus Round offers lots of free spins, with unlimited winning potential. There are also special Mega Wilds up to 3x3 in action across the slot, which are known for offering a huge help in hitting jackpot paylines for the €100,000 wins available in this slot.