Star Bounty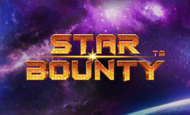 Star Bounty is a 6 reels, 4096 paylines online slots game by Pragmatic Play. Star Bounty has Wild, Bonus symbol, Avalanche pays, Mystery symbol, and Free spins features and an RTP of 96.60%. Star Bounty is one of more than 900 fantastic online slots at roseslots.ie. Join your fellow Irish players and sign up with us today!
Star Bounty Slot
We always expect a certain level of graphical excellence from Pragmatic Play's online slots, but with Star Bounty, they've surpassed even their own high standards. This slick-looking six-reeled slot, with its beehive-like layout of reels and rows, looks so good that it could pass for a licensed product from a movie or a TV show. In fact, we had to double-check that it isn't. It's probably taken more than a little pinch of inspiration from the Star Wars movies, but everything you see when you load this slot is Pragmatic Play's own work. It looks sensational, and they should be applauded. Star Bounty may have six reels and four rows per reel, but the 'up and down' way they're arranged somehow makes the layout feel much larger. There's a futuristic cityscape visible through a spaceship window to the left of the reels, but your attention is more likely to be on the reels themselves. There, you'll find J through to A in a Star Wars-style font as low values, four mysterious science-fiction symbols as medium values, and four characters (two humans, two androids) as the high values. The wild symbol in Star Bounty is a multicoloured jewel, and the bonus symbol gives the game away by having "FREE SPINS" printed across its face!
Star Bounty Bonus Features
Avalanche Pays
As if having a massive 4096 paylines wasn't enough, Star Bounty offers you even more ways to win by throwing in avalanche pays. Each winning combination disintegrates and disappears after you've had your payout, with new symbols teleporting onto the reels to replace them. They might even instantly result in another win, in which case the process repeats!
Mystery Symbols
Look out for missiles landing on the middle three reels. When they land and explode, they turn everything they touch into either matching symbols or wilds.
Free Spins
This is the most complicated feature in Star Bounty, so pay attention! Kicking off free spins by landing three bonus symbols is only the beginning of this journey. They'll lock into place on the reels and offer you a respin in the hope you'll land at least one more bonus symbol. Do that, and you'll re-spin again and again until there are no more to be found. You get one free spin for each bonus symbol on the reels. If that sounds like too much hard work, feel free to buy your way straight into the feature for x75 your stake.
About Pragmatic Play
Star Bounty is about as far away from Pragmatic Play's norm as it's possible to get. While the prolific online slots developer is happy to tackle any theme, they usually do so while sticking to fairly traditional roots. It's not often that you see something that has more than five reels from them, for example, and it's even less likely you'll see them employ the avalanche wins system. Perhaps Star Bounty was a reminder from them to us that they're capable of anything. As one of the most respected providers in the iGaming industry, Pragmatic Play's logo might as well be a quality mark. Perhaps best known for their animals and nature-themed online slots - including Safari King, Great Rhino, and Wolf Gold - they've also tried playing with the Megaways system in Starz Megaways, dabbled with the fantasy theme with Pixie Wings, and catered for traditionalists with Ultra Hold & Spin, Fire Strike, and Fruit Rainbow. They're what a cricket fan would call an "all-rounder," and they're very happy in that role!