Spinball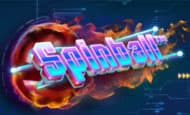 Spinball By Tom Horn Gaming
Spinball is an arcade style online slot developed by Tom Horn Gaming, which takes you to an all new style of slot which is perfect for lovers of retro arcade games. This slot scraps the basic reel and payline idea, offering an all new design which is still high in variance yet extra exciting to play than your typical online slot. Some of the key Features of this online slot included are a 96% RTP rate, plenty of free spins, the chance to win over 1,400x your stake and a fun ball style game to enjoy as you play. *All values mentioned in relation to this game are subject to change at any time. If you are looking for something new and more entertaining, be sure to try this exciting slot here at RoseSlots.ie and take advantage of our welcome offer to receive 500 free spins to play with.
Arcade Slot
Spinball certainly is not your typical online slot, as it does not feature any reels or paylines. This may throw players off at first, but if you stay, you will be greeted with a fun and entertaining mini game. The concept of this game is based around a spin ball machine, with clear graphics and plenty of colourful animation to replicate the gameplay as realistic as possible. You can now enjoy the fun of this retro arcade game whilst still winning big-money, in this modern slot. With no betways or reels, all of your attention and focus is placed on the spin ball board. Although this may look completely different to what you are used to, you do not have to worry as there is still a 96% RTP rate to count on.
Big Jackpot Wins
Spinball is not only very exciting and unique to play, you are also working on winning some very high multiplier prizes. The maximum win is a huge 1,440x your stake, which is easily higher than any of your average online slot jackpots. This payout has a lot of power and potential, and does not necessarily need high stakes in place in order for high cash values to be paid out. Talking of bets, you can bet up to €100 per spin which gives you complete flexibility and control on your own betting strategy. *All values mentioned in relation to this game are subject to change at any time. With a flexible betting limit, big payout and a fair variance on your side, this different style of slot still offers all of the comforts of your average slot.
Free Spins Bonus
Spinball is an exciting bonus round in itself, meaning there is no need for complex bonus features to be added to this slot. Having said that, Tom Horn Gaming have added one bonus found in this game for good measure. This bonus round is the use of a free spins bonus feature, which is uniquely activated if your ball lands in a certain area. The number of free spins paid out to you is unknown and given out at random, and has been known to be very high in some cases.