Slingo Reel King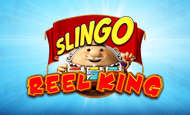 If you have not heard of Slingo, you need to. Slingo Originals have created an all new way of online slot, as shown in Slingo: Reel King.
Slingo Reel King Slot
The concept of this slot combines bingo with online slots, for a unique gameplay and lots of fun for bingo fans. This UK slot combines the magic of Slingo with a famous slot called Reel King, bringing you the best features of bingo and Reel King Mega slot. Although things are done slightly differently in this slot, you can still expect to win big things in the form of Free Spins, 500x your stake payouts and much more. Slingo slots are a must-try here at RoseSlots.ie, as it shows the new way of playing slots. Try this game for yourself online, on mobile or desktop devices with a gift of 500 free spins on your first bet.
Magic Of Bingo
If you are a fan of bingo, you will love the design and concept of Slingo: Reel King. Slingo Originals have brought the fun of bingo to this online slots casino, combining it with common features from slots for a unique and original game. The only difference of this style of slot is the reel layout, showing a clear grid of 5x5 reels and rows covered in numbers and other symbols. There are 12 betways in action here which may not sound like much, but this is perfectly normal for any Slingo slot. The theme of this slot is rather traditional - if you have played Reel King slots before, you will be familiar with this design. The symbols used are rather classical including crowns, fruit, stars and other traditionally iconic symbols. As always, all you have to do is match 3 or more symbols to win a payout - in a call-out fashion to bring elements of Bingo into this slot.
Win 500x Stake Payouts
Slingo: Reel King is known for strong payouts, with extra bonus features and variance enhancers to make payouts easier to win. Although you are winning them in a slightly different way, this slot is still as fair in variance as all other slots. The RTP sits at a nice 95%, a perfectly normal number for a medium variance slot. Payouts on offer in this slot include 500x your stake, which is a pretty good jackpot to work on. Although this can turn smaller bets into good money, it can really have an impact on higher stakes. Talking of stakes, you can bet up to €25 in this slot.
Free Spin Features
Slingo: Reel King has a nice collection of bonus features, including a Free Spins Bonus Round. This bonus feature can give you lots of free games, giving you second chances at winning big payouts. If you do not want to leave it up to chance when activating this feature, you will be thrilled to hear of the Bonus Bet Feature used in this slot - for a little extra stake, you can guarantee access to this bonus feature.