Platinum Goddess Extreme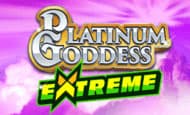 Platinum Goddess Extreme is a fantasy themed UK slot designed by High 5 Games, a sequel to one of their most popular games. This slot is based around a mystical goddess, creating some beautiful graphics to enjoy as you play for big money in this slot. 
Platinum Goddess Extreme Slot
What makes this game so 'extreme' becomes evident in the bonus features and payouts, which go even bigger and better than the original version. With the fair chance to win 1,000x your stake wins, this slot also comes with extra bonuses such as many Free Spins and even Stacked Wilds. Play the new, improved version of a High 5 classic here at Rose Slots Casino, and gain access to our welcome offer to get 500 Free Spins on your first bet. 
Fantasy Themes
Platinum Goddess Extreme comes as a sequel to Platinum Goddess, a High 5 Games development which many players know. The popularity of the original version inspired this bigger and better slot, which you need to try if you enjoyed the other slot. The theme and visuals of this game are the same, based around a fantasy style theme with a female goddess as the main focus. The graphics and of even better quality, as it is a newer version to the original slot. The overall design, however, is the same. With 5 reels and 3 rows, even beginners can enjoy this slot with ease - with nothing standing in their way. This traditional format is backed with the usual betway pattern, which features 20 ways to win, offering more than enough chances to match those symbols. Enjoy this magical slot on your choice of device, thanks to full compatibility by High 5 Games themselves. 
Bigger Payouts
Platinum Goddess Extreme is all about being bigger and better - with bigger payouts, better variance and more bonus features to try out. This UK slot offers a very attractive jackpot of 1,000x your stake, which has a lot of potential. You can turn this big win into a cash payout of €40,000, which is certainly something to get excited about. The betting limit of this slot is set to a very fair €40 per spin, keeping the game fair, affordable and safe. These valuable and appealing jackpots are made even easier to win, through a 96% RTP rating.
Magical Features
In Platinum Goddess Extreme, we are expecting bigger and better bonus features in comparison to the previous, original version of this game. High 5 Games have certainly delivered on this, giving us more bonus features than before. The bonus features of this slot include a Free Spins Bonus Round, which is free of restrictions and ready to give you up to 30 free spins for one payline - a great trade for another shot at winning from the same stake. To make these free spins even better, you can access sticky wilds which can keep the wild symbols around for your free spins, for a higher jackpot winning chance.