Neon Pyramid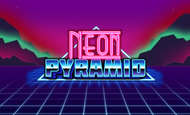 Neon Pyramid is a colourful, neon UK slot developed by Inspired Gaming. This slot takes a lot of inspiration from retro video games, with colours bright enough to catch all eyes. Developed to a high standard as a new game, you can enjoy this slot across any device for full portability. 
Neon Pyramid Slot
There are so many exciting features which allow this simple slot to stand out from the crowd. These include a generous betway pattern with over 4,000 ways to win, and the generous chance to win over 10,000x your bet. High variance works hand in hand with high payouts in this slot, ticking all boxes for a great online slot. Try the neon slot for yourself here at RoseSlots.ie, and you just might get your hands on that big jackpot, with 500 Free Spins on us.
Retro Neon Style
Neon Pyramid resembles an 80's video game, with bright neon lights and retro style graphics. Developed by Inspired Gaming, this slot is set against a dark background to make the visuals stand out even more. This style of slot is incredibly interactive and engaging, with flashing lights and amazing colours keeping the visuals looking strong. There are also special secrets hidden in the design, which can help your variance improve. The 6 reel, 4 row design gives you a more fast-paced and unique reel to work with, perfect for those looking for a little challenge. This larger reel certainly comes with its benefits, with a high count of 4,096 ways to win - this betway pattern is a rare find and is certainly appealing to players. Keep your eyes on the neon prize in this slot, and you just might win a fortune. 
10,000x Your Bets
Neon Pyramid may have a rather simple, 80's inspired design, but there is nothing simple or basic about the payouts offered. Winning this slot can offer a huge 10,000x your stake, which is sure to attract the attention of any player here at Rose Slots. This UK slot consists of scatters, wilds and basic symbols all of different values. There are also special Multipliers throughout the slot, which are there to better the payouts across the slot. Although you can only bet up to €25 per spin, you could turn this into a huge €250,000 payout, which is a massive return. An RTP rate of 95.85% makes this slot fair in variance for a nice chance of winning.
Multipliers & Spins
The bonus features of Neon Pyramid are features we have all seen before, and we all love. A Free Spins Bonus Round is waiting to hand out lots of free spins, in a feature which can be reactivated many times. The Multipliers await to give out huge payouts up to 10,000x your stake, making an impact on any payout of the entire slot. Wild symbols can also appear stacked across the reel, bettering your chances of making a wild win.