Master Joker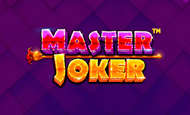 Master Joker is one of Pragmatic Play's traditional style UK slots, based on the famous card symbol of the joker. This takes a lot of inspiration from classical slots, many of which we have seen in authentic casinos.
Master Joker Slot
The design of this slot is simple, beginner friendly and full of casino nostalgia. If you prefer playing slots with a little simplicity, this is the ideal game for you. Pragmatic Play are certainly known for their unique and classical slots, and this is easily one of their most popular to date. See the real magic of this slot at Rose Slots Casino, and we will add 500 Free Spins to your first stake as a new player.
Classical Nostalgia
Master Joker is based on the classical theme of a card symbol joker, an icon of many slots for many years. It is common for Pragmatic Play to take us way back in time to simpler times, with slots just like this one. There is something very traditional and unique about this slot, which is welcoming of every player of all abilities. There is nothing complex or original about this slot, you are simply working with an old-fashioned theme with a structure we are all familiar with. Symbols include classical visuals such as card royals, jokers, wilds and bars - which makes it easier to understand the paytable and which symbols to look out for. The reel is so simple, being 5 reels wide and 1 row tall - this means the aim of the slot is to match all symbols on the screen, which makes it much easier to focus. There is only one betway to focus on, which keeps the slot very simple and beginner friendly. You can enjoy the magic of an authentic slot from the comfort of your own home thanks to Pragmatic, with compatibility across mobile and desktop devices. 
Big Jackpot Wins
The payouts in Master Joker are easily the most appealing part of the game, as they go above and beyond what we usually expect from any slot. With the chance to walk away with 10,000x your stake, this UK slot is certainty worth getting excited about. These jackpots are made even better with the higher chance of winning, due to a 96.46% RTP rating which offers a higher than average variance. You can access huge cash values up to €1million, due to the high betting limits of €100 per spin. As far as payouts and betting goes, this slot has it all.
Bonus Wheel Fun
Master Joker features some surprising bonus features which add a modern touch to a classical slot. There is a Bonus Wheel Feature, which can hand out jackpot wins, free spins, wild features and many more perks. There are also Multipliers in action here, which is the second bonus feature of the game. It is this bonus addition which you need to thank in order to win the €1million payouts, so keep your eyes peeled for those wilds.