Leprechaun Song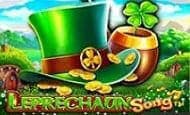 Leprechaun Song is a classical Irish themed UK slot developed by Pragmatic Play, the developers who are known best for their simplified design features.
Leprechaun Song Slot
This slot is perfect for those looking for a beginner friendly, Irish themed slot with some bonus features thrown in. As far as slots go, this game features everything you need to have fun - a good chance of winning, some brilliant payouts to work on and some bonus features to help you out. This slot is all about giving you the best chance of winning, which is great news for players. To see the famous song for yourself, play this action packed game on all devices at RoseSlots.ie.
Irish Singing & Dancing
Leprechaun Song is set around an Irish theme, filled with leprechaun characters and irish themed music. Developed by Pragmatic Play, this slot offers a beginner friendly design with lots of cheerful design features. This slot is set in a mythical irish land, filled with upbeat sound effects and animated leprechauns - it certainly keeps you entertained and on your toes. Symbols include dancing leprechauns, shamrocks and other irish icons. The format consists of 5 reels and 3 rows, for a simple gameplay which even beginner players can understand with ease. For a fair game to play, the betway pattern consists of 20 ways to win with an evenly spread design. Enjoy magic, myth and irish dancing in this modern slot.
€70,000 Payouts
In Leprechaun Song, there is certainly opportunity to win some big payouts. With a maximum betting limit of €100 per spin, you have the chance to bet high and win even higher. This UK slot is all about those multiplier payouts, which makes your stake extra important - if you bet high, you can win high and vice versa. There are also many bonus features which can offer additional payouts, meaning you have more ways than one to win big. Payouts throughout this slot can be higher than 700x your stake, which can produce huge returns up to and over €70,000 - some great payouts to be won here. The chances of you winning these slots depends on a good variance, with a 96.46% above average RTP rate. There are also extra bonus features and an RTP range to help you out even more, which is great for players.
Helpful Bonus Features
Leprechaun Song is not only strong in visuals and payouts, it also offers some bonus features which can help you out in your chances even more. This slot features the classic Free Spins Bonus Round, giving you plenty of free spins to work with. You can reactivate this feature multiple times, for as many free spins as you could ask for. Another variance boosting bonus feature is the use of an RTP range, meaning your chances of winning can actually increase as you play. With helpful bonus features and a strong variance combined, your chances are looking great in this online slot.