Knockout Diamonds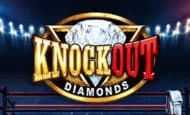 Knockout Diamonds is a classical, diamond inspired UK slot developed by Elk Studios. Full of traditional symbols with a hint of baseball, this slot is certainly full of originality for a unique design of slot. This 3-reel slot is perfect for beginners, as it strips way back to basics for a straightforward slot with one way to win. 
Knockout Diamonds Slot
For something easy, rewarding and beginner friendly, this is the perfect choice of slot. Amongst the glowing diamonds, this game can offer super high value jackpots (including 2,500x your stake), Multipliers, Locked Reels, Free Spins and more. To combine your love for sports with a liking for big payouts, play this modern game at Rose Slots Casino and we will throw in an extra 500 Free Spins on your first stake. 
Sports & Diamonds
Knockout Diamonds cleverly combines gemstones with a sports theme, taking you to the most diamond-filled baseball game you will ever see. This unique theme is designed by Elk Studios, who are always bringing new and unique ideas to this online slots casino. This slot is as traditional and simplified as any slot can get, making it very popular with beginner players and fans of straightforward slots. With just 3x1 reels and rows, this slot takes you back to basics for a slot which is very easy to understand. There is just one way to win to focus on, placing all attention on the symbols on the screen to make this slot very easy to follow. Although this slot is classical and simple, the graphics are of a very high standard. You can also enjoy this slot on all major devices, due to modern development by a huge slot creator, Elk Studios.
2,500x Jackpot Winnings
Knockout Diamonds may look basic at first glance, but you may be surprised by the high value payouts which are available here. This simple slot is packed full of variance and a high chance of winning, despite the limited paylines. With a 96% RTP rating, the proof is in the high variance to show how likely this game can be to payout well. Talking of payouts, there is some serious potential here to win up to 2,500x your stake, a massive multiplier to turn all bets into a good payout. With up to €100 per spin available to use, you could potentially walk away with a whopping €250,000 in your pocket from this high value slot.
Knockout Features
If you love bonus features, you will love Knockout Diamond and all it has to offer. The bonus features of this game include a Free Spins Bonus Round, triggered through bonus symbols to give you plenty of batches of free spins (in 25 free spins at a time). These free spins are complemented by the use of Multipliers, which are essential if you are looking to hit the big payouts of the game. Finally, Locked Reels can really come in handy in this slot to keep the valuable symbols around and hopefully lose the low value symbols in free spins.