Jack and the Beanstalk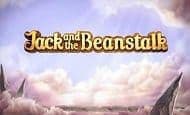 Jack And The Beanstalk By NetEnt
Jack and The Beanstalk is a fantastic slot based around a popular fairytale story, developed by NetEnt. This is a hugely popular game for its high-quality design, exciting bonus features of the chance to win big jackpot prizes. Developed by a huge name in the world of slots, this game continues to grow in popularity and attract hundreds of players. Some of the main things which many players love about this exciting game include The chance to win up to €600,000, an above average RTP rate, lots of wild symbols and a fantastic free spins bonus round to keep things exciting. *All values mentioned in relation to this game are subject to change at any time. If this all sounds too appealing, be sure to try this game here at RoseSlots.ie and we will give you 500 free spins when you place your first deposit as a warm welcome.
Climb The Stalk
We are all aware of the storyline and characters involved in Jack and the Beanstalk, as one of the most popular and well-known fairy tales. NetEnt have effectively transformed the story into one of the most popular fairytale themed games here at Rose Slots. They have achieved this through plenty of colour, high quality graphics and exciting bonus features. The design of this accessible game involves a standard 5x3 reel and row formation, which means even basic and beginner players can enjoy this rewarding slot. You are working with a very fair payline pattern of 20 ways to win, to keep the variance medium to high. This design, alongside a range of bonus features, allows this slot to offer a strong RTP rate of 96.28% which is actually an above average likelihood of winning - which is always great news to players.
Aside from the fantastic theme, one of the main attractions of Jack and The Beanstalk has to be the use of high payouts. In fact, the maximum win of the entire game is a very strong €600,000 win - which requires a complex payline and bonus feature to be activated, although you have a high RTP and special symbols available to help make this happen. There is one unique twist to this slot, which only allows you to bet to a maximum of €0.50 per spin. *All values mentioned in relation to this game are subject to change at any time. Although this may hold some players back from playing this slot, it actually makes the game much more rewarding as you can bet small yet still access some incredible payouts.
Features & Fun
Jack and The Beanstalk mainly attracts players for its high value wins and high variance, although it does also include one or two bonus features to keep the game strong. The main feature added to this slot is a free spins bonus round, which will give you 25 free spins for every payline of scatter symbols you make. If you are a fan of simple bonus features which involve free spins, this game will certainly appeal to you for all it has to offer here at Rose Slots Casino.