Irish Frenzy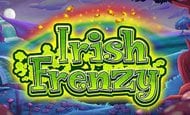 Irish Frenzy By Blueprint Gaming
Irish Frenzy is an Irish look themed slot designed by one of the best, Blueprint Gaming. This bright and colourful online slot comes with lots of animated effects, leprechauns and cheerful design features. There are many Irish theme games to choose from at this online slots casino, and this is easily one of the best. Not only can you win up to 5000x your stake, but you also have a pretty good chance of doing so with a 96.5% RTP rate and plenty of bonus features. Some of the bonus features available in this magical slot include additive symbols and free spins, both working together to offer a great chance of winning. Try your Irish luck in this colourful game today at RoseSlots.ie on your choice of device, giving you 500 free spins when you place your first bet as a new player. *All values mentioned in relation to this game are subject to change at any time.
Colourful Irish Scenes
Irish Frenzy forms part of that frenzy series developed by Blueprint, which takes you through a variety of settings – this game being the Irish theme. As this is based around Irish culture, you can expect lots of colour and green visuals throughout – including the use of a fun loving leprechaun character. There is a wide range of symbols involved in this game including clovers, mushrooms, Irish flags and other on-theme graphics. The reel design features 5x3 reels, keeping the game simple and beginner friendly. It is clear that the developers have tried to keep this game as straightforward as possible, giving you just 10 ways to win to focus on. This keeps  the game concept much easier to follow, yet still manages to offer a very impressive RTP rate of 96.5%.
Irish Frenzy has a lot of competition in the wide range of Irish themed slots here at Rose Slots, which has certainly inspired the developers to step it up a gear in terms of payout value. You can win up to 5,000x your stake in this slot, which is certainly an appealing win which does not require a high stake commitment to produce big cash prizes. You could win up to €500,000 in this game, and better up to €100 per spin. *All values mentioned in relation to this game are subject to change at any time. This adds a lot of value and potential to this game, which is lots of fun to play.
Lucky Features
Irish Frenzy it's all about the high variance, starting you off to an already strong chance of winning which can only get better as the bonus features begin to activate. The bonus features include a free spins bonus round, which can be activated as many times as you like for 20 free spins per go. There are also additive symbols which can bring valuable wild symbols into your game at any time. Both of these exciting features are there to encourage wins, therefore increasing your variance as you play. Enjoy these exciting bonus rounds by keeping an eye out for wild and scatter symbols throughout.