Hot to Burn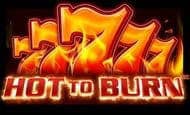 Hot To Burn By Reel Kingdom
Hot to Burn is a traditional style slot developed by Reel Kingdom, made exciting and original for the use of fire graphics and themed visuals. The concept of this slot is to appear as classical as possible, offering all of the nostalgic symbols including Lucky sevens and fruit symbols. If you are looking for something traditional yet upgraded with modern development features, this is certainly the game for you. Although this slot looks very simple and basic, it offers the advantages of a high rate of variance, a very high betting limit and the chance to win up to €250,000. *All values mentioned in relation to this game are subject to change at any time. Although there are no bonus features in this game, you do benefit from various wild symbols and the chance to win big. If your priority is all about heating high payouts and winning high jackpots, this is the perfect spot for you – and you can play online on all devices right here at RoseSlots.ie to gain 500 free spins on your first deposit.
Traditionally Modern
Reel Kingdom have managed to combine a traditional theme with a very modern graphic design using the latest features in modern development, making this exciting slot available on all mobile and desktop devices. This slot does appear very familiar as it only uses classical design features and symbols including fruit, bars and even lucky sevens. There is nothing majorly exciting about this traditional theme, but the developers have spiced things up with a hint of fire. The format of the slot sticks to basics with 5 reels and 5 betways, which offers the perfect game for beginner players to enjoy as it is as simplified as possible. Although this payline system may not sound the best, you can be confident that the RTP rate still sits at a very high 96.7% to fill you with confidence that you are going to potentially be a winner.
Hot To Burn includes the chance to win a very high jackpot up to €250,000, which is easily the main selling point of this classical game. Combined this high win with the high variance and you are onto a very appealing and attractive online slot. The multiplier jackpot available to create this win is a very nice 1,000x your stake win - this payout can turn most bets into a great win, but you can only win the maximum return if you are willing to bet with the maximum limit of €250 per spin. *All values mentioned in relation to this game are subject to change at any time. In this slot, if you are willing to commit to a higher stakes and you can reap the benefits offered by this high rate of variance.
Limited Features
Hot To Burn is all about keeping things simple, with no bonus features to distract you from these big wins. Reel Kingdom specialise in beginner friendly slots which offer no complicated bonus features, only high payouts under strong variance. Because of this, this game offers no bonus features – no free spins, bonus rounds or complicated bonus symbols.