Hot Blox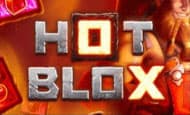 Hot Blox is a fiery themed UK online slot developed by High 5 Games, with a retro style concept. Block themes have long been enjoyed by developers and players at this online slots casino, but this game brings the heat with a hint of fire in the theme.
Hot Blox Slot
 The visuals are impressive and beginner friendly, with lots of hidden gems found throughout the slot for a higher variance and even better payouts. Do not let the traditional aesthetic fool you, there is lots of modernity to this slot. The best perks to this fire themed slot have to be the Multipliers, Free Spins and huge jackpots over 10,000x your bet. Try Hot Blox for yourself to try an innovative theme with hints of classical slots, here at RoseSlots.ie on mobile or desktop devices.
Retro Fire
The design of Hot Blox is a nice combination of modern and classic, with traditional symbols such as fruit and bells scattered throughout the slot. Although this slot takes inspiration from older themes, there is a modern concept to the entire game. The theme of this slot is fire and retro blocks, an original idea by High 5 Games. The graphics are designed to a high standard, and you can enjoy them to their full potential across all devices. There is a real unique touch to the reel design of this slot, starting you off with a 2 reel design with a potential 9 rows available to add. The ever changing nature to the reel design really keeps you on your toes, perfect for those looking for something different and fast-paced. This slot works as a mini-game style of slot, getting rid of betways and keeping things very simple.
Over 10,000x Stakes
Hot Blox has some serious hidden gems in the form of jackpots and valuable payouts, which are designed to keep you on your toes throughout the slot. When you hit a jackpot in this fiery UK slot, you can win a potential 10,031x your stake - this means you can bet as little as €1 and still win a whopping €10,000. Payouts this high are not easy to find, and they are certainly the main selling point of this slot. Other benefits of this slot include the higher RTP of 96% for a fair game, as well as the chance to bet up to €500 per spin for plenty of flexibility.
Multipliers & Spins
Hot Blox has just enough bonus features to keep you entertained, including the chance to better your variance and payout values. The Free Spins offer extra chances to win big, and work for a great variance booster. These also work alongside Multipliers to offer great returns over 10,000x your stake. Another mini feature to this slot is the Symbol Collection feature, working through the main game to offer a second way to win cash. Simply collect certain symbols and unlock payouts, multipliers and other benefits as you play.