Fire Forge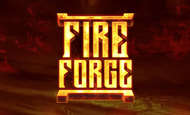 Fire Forge is a fiery UK slot developed by Stormcraft Studios, a fairly new release which is bursting full of fun features and high value payouts.
Fire Forge Slot
If you prefer advanced slots with a bonus feature and symbol around every corner, this slot is perfect for you. There is nothing calm about this slot, as it is packed full of action and chances to win big. Some of the perks to playing this slot include a good chance of winning, payouts as high as 50,000x your stake, free spins, prize picks, wild features and much more. This slot features every bonus addition you could think of, so if this is a priority of yours, you will love this game. Play Fire Forge online at Rose Slots Casino, and we will give you 500 Free Spins on your first stake.
Fiery Totem Gems
Fire Forge is a unique UK slot based on a totem theme, with gemstones and fiery graphics involved throughout the slot. There is a level of excitement to this online slot, with vibrant animations and explosive graphics to keep you on your toes. As a fairly new slot, expect the graphics in this game to be of a very high standard, to capture your attention from the get-go. The design of the reel itself also has its benefits, showing 243 betways spread across 5 reels. This payline system is very generous for a game of this size, which means even more chances of winning in this online slot. As you work through the gemstone and totem symbols, keep your eyes peeled for wilds and bonus symbols as these are the most important part of the game.
50,000x Stake Wins
In Fire Forge, you can get your hands on some very impressive wins up to 50,000x your stake - payouts this high are not the norm, making this slot more valuable than the average slot. A payout this high has potential to turn any stake into a big win, and make very impressive returns from the higher stakes. This slot is all about accessing bonus features and winning payouts, relying on a high RTP rate of 96.73% to offer a good shot at winning.
Many Bonus Features
Fire Forge certainly delivers on strong and varied bonus features, offering a feature for every purpose. There are variance enhancing bonus features such as a Free Spins Bonus Round, designed to give you a better chance at winning. There is also a Multiplier Feature which activates alongside free spins to generate huge payouts such as 50,000x. There is a separate Bonus Wheel Feature, which is a fun mini game - spin the wheel and win payouts, free spins, wild feature, multipliers and even more. The reel itself in this UK slot is also full of bonus features, including an Avalanche Effect with cascading reels which has been known to make winning streaks more common. Play this slot at RoseSlots.ie and see all of these magical features for yourself.