Fiddle Dee Dough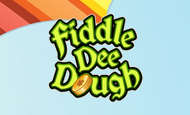 Fiddle Dee Dough is a cheerful, Irish themed UK slot designed by Eyecon. There is something very unique to this Irish slot, complete with a weird and wonderful character as the central focus of the game. 
Fiddle Dee Dough Slot
This slot takes you to a very vibrant setting with leprechauns, rainbows and other mystical visuals for a light-hearted design which is typical of Eyecon developers. Not only a pretty face, this slot also offers some very appealing bonus features and payouts throughout the game. These include a Free Spins Bonus Round, with lots of potential to win hundreds of free games. Try your luck at the Gamble Feature for double wins and huge payouts, in Fiddle Dee Dough, available at RoseSlots.ie with 500 Free Spins on your first stake.
Cheerful Irish Characters
Fiddle Dee Dough is a very upbeat and colourful slot designed by Eyecon, which displays their usual style of development perfectly. The theme of this slot is an Irish concept, based around a cheerful leprechaun character. Expect a lot of colour and vibrancy in this eye-catching design, which is complete with animation and audio for an extra interactivity. As you explore the rainbow, you are faced with a simple design of 3 reels and 3 rows. This design is incredibly easy to follow and includes no complications, allowing you to dive right into this slot from the first spin. It is safe to say, this slot takes you back to basics with 3 reels and 9 betways, offering the most simple game to play here at Rose Slots. Do not let this fool you into thinking this is a less volatile slot, as you still have a 95.11% RTP rating to work with. 
Win 1,000x Stake
Fiddle Dee Dough offers some brilliant payouts, up to 1,000x your stake. In cash values, this can offer huge jackpots up to €45,000. This is a unique style of Eyecon UK slot, as it offers the chance to bet up to a higher limit of €45 per spin, which is unheard of in their slot creations. There is also the unique chance to double your payouts for wins up to 2,000x your stake, through the Gamble Feature. This activates after every win, to double your winnings in a 50/50 chance.
Wacky Features
Fiddle Dee Dough is simple in the main reel, but also adds special bonus features to keep the slot unique. The main event of this slot is the Free Spins Bonus Round, which you can find when you land 3 or more scatter bonus symbols. As in all Eyecon slots, this can be reactivated multiple times to win up to 400 free spins - which is certainly more than enough for a second chance to win. These bonus features also include Random Wilds, which can swap out symbols throughout the slot for a higher chance to win the higher payouts of the slot, instead of the basic and lower value wins.