Emerald Gold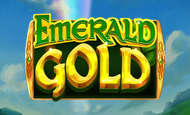 Emerald Gold is a 5 reels, 40 paylines online slots game by Just For The Win. Emerald Gold has Wild, Scatter symbol, Bonus symbol, Free spins, and Jackpot bonus features, and an RTP of 96.04%. This is one of almost 1000 amazing online slots available for players in Ireland on the roseslots.ie website, which you can join today!
Emerald Gold Slot
 Irish players often have mixed feelings about Irish-themed slots. On the one hand, they're usually among the most bonus-heavy, rewarding online slots on the market. On the other hand, they're frequently so stereotypical that they're borderline offensive. Emerald Gold is a pleasant break from the norm on that front. Rather than turning the iconography of Ireland into a cartoon, we have a surprisingly realistic depiction of the Emerald Isle's beautiful hilly landscape in the background. The symbols on the reels are still drawn from superstition and stereotype, but they're at least handled respectfully!
We've mentioned the symbols, so let's list them. On the 5*4 layout - which somehow feels smaller than it actually is - we have a reversal of what we've come to expect. The theme-specific symbols, namely the pint of ale, the four-leaf clover, the emerald ring and the horseshoe, are at the low end of the value scale. The more valuable symbols are drawn from the slots of the past, with single, double, and triple bars and silver lucky 7s. You can mix the multiple bar symbols, so if you land a single bar and then a triple bar next to it, it counts as four bar symbols in a row. That's enormously helpful when it comes to landing payline wins. The big gold 'W' symbol is (unsurprisingly) wild, the gold hat is a scatter, and the gold coin is a bonus symbol.
Emerald Gold Bonus Features
Free Spins
Access the free spins feature in the Emerald Gold slot by landing three gold hats anywhere in view. You only get three spins, but you get an additional three each time a gold coin symbol lands. The combined value of every gold coin you collect is paid out to you in addition to any line wins once you're out of spins. See the "jackpot" section for more information about those special coins.
Jackpot Wins
While every online slot has a jackpot of some description, the jackpot in Emerald Gold is special. To the top-left of the reels, you'll see a spinning list of jackpot prizes. That list tells you what you'll win for landing a specific number of gold coins on each spin. It starts as a mostly-worthless return of your stake for four coins but escalates rapidly from there, with x50 your stake for eight coins and a thunderously massive x25,000 for all twelve. Remember that you don't have to land all of these coins at once when you've triggered free spins - you collect them as you go!
About Just For The Win
The somewhat lengthy name of Just For The Win Gaming is often abbreviated to JFTW, which we'll do here. JFTW formed in their native Sweden in 2016, opening its headquarters in Gothenburg. They were a small operation during their first few months, employing only ten people. Fortunately for them and us, those ten people were exceptionally gifted when it comes to online slots. They brought us the Deco Diamonds slot, which was a worldwide hit, and their roster and reputation have grown from there. Occasionally, we get the feeling that JFTW makes their online slots with their tongues planted firmly in their cheeks. You'd have to have a sense of humour to come up with anything like the company's Reel Talent slot, which parodies the success of TV shows like the X-Factor by replacing all the humans with animals. Reel Splitter is an example of them thinking outside the box when coming up with features and bonuses, but it's reassuring to know that they're capable of giving us slots like Emerald Gold, too. It might not push any boundaries, but it's a well put together slot with high bonus potential.