Elite of Evil: The First Quest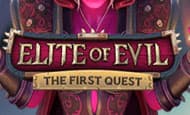 Elite Of Evil: The First Quest by Eyecon for RoseSlots.ie Elite Of Evil: The First Quest is one of the most iconic online slots developed by Eyecon, which was the start of an entire popular series
Elite Of Evil: The First Quest Slot
Elite Of Evil: The First Quest is a medieval fantasy themed UK slot, brought to you by Gluck Games. A hugely popular slot at this online slots casino, this slot is full of magic and bonus features. If you prefer a mystical, fantasy style slot which comes with characters and a storyline, you will love this game - and there are various slots within the Elite Of Evil series to enjoy. Just some of the perks which comes with this slot includes a super high RTP rate, a unique Cluster Payout system, Multipliers, a Battle Feature and lots of interactive bonus rounds. Try the famous Elite Of Evil: The First Quest and see where the magic of this slot series began, here at RoseSlots.ie with 500 Free Spins added to your first stake.
Popular Fantasy
Elite OF Evil: The First Quest is one of multiple Elite Of Evil slots by Gluck Games. This slot is where the series began, which has grown due to the popularity which these slots attracted. These slots are based on fantasy, with a medieval concept and a touch of magic for an interactive story to this game. There is a dark aesthetic to this slot, which is spookier than the typical online slot - perfect for those looking for something more serious and mysterious. This is not your average 5 reel slot, it is complete with 5 rows to accommodate a Cluster Payout system. This gets rid of traditional paylines to focus on groups of symbols, which in some cases can be easier to achieve. For something new, different and exciting, this is the slot for you. Play this game on your choice of device from mobile to desktop at this  online slots casino.
Multiplier Payouts
The best addition to Elite Of Evil: The First Quest is known for its multiplier features, which makes the slot slightly more advanced than the average slot. In the main reel, you can only win up to 12x your bet - which is not the bets payout to win. However, this slot comes with a generous Multiplier with no limit, which means much higher payouts are possible. This UK slot only allows stakes up to €20 per spin, making this slot one of the cheaper slots to play at this online slots casino. The best feature of this game has to be the great RTP rate of 97.5%, which makes this slot incredibly high in variance - things are looking promising.
Bonus Features
Elite Of Evil: The First Quest comes with plenty of exciting features, starting with the unique Cluster Payout system. There is a themed Battle Feature to this slot, a bonus game which fits perfectly with the theme. There is also Reel Set Changes in action here, which can switch up your gameplay and variance. Finally, the main feature is the use of Multipliers which can attach themselves to your payouts for a boost in value and jackpot.