Egyptian Emeralds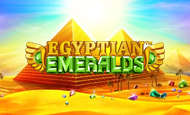 Egyptian Emeralds By Playtech
 Egyptian Emeralds Is a Egyptian and gemstone themed slot developed by Playtech, a fairly new addition to this online slots casino which stops outside of the box in terms of bonus features and betting options. Which is a nice twist on a popular Egyptian classic, offering the chance to win up to €10,000. *All values mentioned in relation to this game are subject to change at any time. The value and variance is certainly there in this game, as well as a range of exciting bonus features including re-spins and stacked wilds. You are exploring ancient Egypt in an all new way, with vibrant colours and compatibility across all modern devices. Try this new and improved ancient Egyptian themed slot today at RoseSlots.ie, and we will throw in 500 free spins when you place your first deposit as part of our 2021 welcome offer.
Golden Egypt
Ancient Egyptian themes that are very common at this online slots casino, with hundreds of titles available to choose from. Developers are still adding to this theme to this very year, with Egyptian Emeralds. This game has a unique combination of gemstones and ancient Egypt, two common themes found at this online slots casino – this makes for a beautifully colourful and original aesthetic. Although this is a very modern addition to this theme, the format of the game stays very original. You are still working with just 5 reels, keeping the reel limited to just three rows to not overcomplicate the main game. Also, the developers have chosen one of the more basic and easy to manage betway patterns of just 10 ways to win. Although this is far more limited than other slots, the RTP rating still comes out on top at 96.36%.
Egyptian Emeralds includes a wide selection of valuable payouts ranging from 20x to 200x your bet - it all depends on which symbol you land, with the scarab wild beetle being the most valuable. The maximum cash value you can win from this game is up to an impressive €10,000, with many of the bonus features designed to help you get there. In this game, you can bet up to €500 per spin, meaning there is nothing holding you back from getting comfortable with your own betting style. *All values mentioned in relation to this game are subject to change at any time. The real money of this game is found in the bonus features, so be sure to look out for those valuable themed symbols.
Respin Features
If you are a fan of Respin bonus features, there is no better game for you to play than Egyptian Emeralds. All of the bonus features in this game focus on respins, giving you second chances at winning payouts. You can access as many responses as you can, depending on whether you hit the bonus symbol. An additional bonus feature which works well with these respins  is the use of stacked wild symbols, making these features go the extra mile in forming the jackpot payline. Although some players may miss the lack of free spins in this game, it is safe to say the developers have made up for this with multiple respin features.