Dragon's Luck Deluxe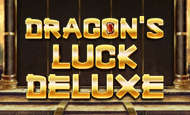 Dragon's Luck Deluxe By Red Tiger Gaming
Dragon's Luck Deluxe is a sequel slot created from the popularity of the original Dragon's Luck by Red Tiger Gaming, an oriental style slot which features a very strong theme. This game is perfect for those who enjoyed simplified slots with big jackpot, a Chinese inspired theme and just enough bonus features to keep the game exciting without making things complex. Some of the packs to this game include strong imagery, free spins, mega symbols, mystery symbols, wild, a high variance stand a chance to win over 3,000x your stake. See what the fuss is about in this new and improved Oriental themed slot by playing this game at RoseSlots.ie on your choice of mobile, desktop or tablet device – and we will give you 500 free spins as a welcome. *All values mentioned in relation to this game are subject to change at any time.
Oriental Style
Dragon's Luck Deluxe comes after the original version of this oriental film slot, developed by the one and only red tiger gaming. The theme of this game is based around Chinese culture, with Oriental graphics and a fiery concept. Many of the graphics are designed to stand out, cut your attention and replicate an oriental theme, with the likes of lotus, koi and even Asian God filling your screen. The design itself spreads across five reels and four rows, which is a fairly standard format accessible by beginners and advanced slot players. This slot is fitted with 20 ways to win, which stretches to multiple directions to give you the best chance at winning. The design of this game must be doing something right as it has the potential to offer an RTP rate of 94.7%, which is pretty good as far as variance goes.
Win Over 3,000x
Dragon's Luck Deluxe offers a deluxe version of an oriental slot - you will find the payouts and bonus features of this game to be deluxe, offering higher jackpot than the original version. You can win up to 3,999x your stake, which is a pretty good jackpot to set your sights on which has a lot of power behind it to turn on the smaller bits used in this game to create high payouts. This jackpot is essential to the value of this slot as you can only bet up to €20 per spin in this game. *All values mentioned in relation to this game are subject to change at any time.
Modifier Symbols
Dragon's Luck Deluxe is designed to be bigger and better than before, which you can really see come to action in the bonus features of this game. There are additional bonus features thrown into the slot which include mystery symbols and mega symbols, which are both there to encourage the jackpot winning payline to take place. If these don't help, you can also access the free spins bonus round which gives you multiple second chances at hitting those high paylines. If you enjoyed the original version of this game, you will love this slot even more – as there are more bonus features of the symbol modify isn't on this game has ever seen before.