Diamond Gems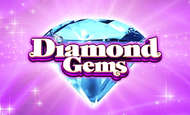 Diamond Gems is a gemstone themed UK slot developed by Inspired Games, featuring lots of vibrant colours and glowing diamonds.
Diamond Gems Slot
This theme is a common design used by developers, which slots have followed for many years - a rather traditional design which attracts players looking for something simple and colourful. This slot may be a retro design, but it still offers some incredible incentives which match up to more modern games. You can access generous payline symbols paying out up to 60x your bet, with the maximum win of this slot offering a huge €250,000 return. If you are looking for something very simple, traditional and free of any complex features - this is the beginner friendly game for you. Play Diamond Gems here at RoseSlots.ie today and get 500 Free Spins on your first stake, as a welcome offer.
Latest Features
Diamond Gems is a modern UK slot based on a retro theme. , but developed with some impressively modern graphics. The gemstone theme is a very common theme used by all developers, which dates back to old fashioned slots. In this slot, a classical theme is updated with HD graphics and full compatibility with mobile, tablet and desktop devices. The symbols of this slot include diamonds, sapphires and other beautiful gemstones, all glowing and animated to your reel. These beautiful symbols are shown clearly across just 3 reels, being the most beginner friendly and simple style of slot known to Rose Slots Casino. This takes us back to basics, to understand this slot much easier and make for a straightforward gameplay. This reel features a fixed betway pattern of 5 ways to win, which is stripped back of any complications for an easy slot.
Win €250K Jackpots
Diamond Gems may look simple, be basic and take us back to traditional slot style - but it still offers some exceptional payouts. One of the biggest selling points of this slot, due to the limited bonus features and symbols, is the payouts. All focus of this simple slot is placed on the jackpot, which is a big €250,000 win - this is the payout which every player hopes for in this slot. Payline payouts of this slot can reach a maximum of 60x your stake, which can make great differences to most stakes. You can bet up to €100 per spin in this slot, meaning you could win up to €60,000 through simple paylines. These valuable payouts come at the price of a lower variance, with a 94% RTP rating to make this slot less volatile and more challenging.
Straightforward Slot
If you are looking for lots of complex bonus features to play with, you may want to look elsewhere. Diamond Gems is very much 'back to basics', freeing you from complicated bonus features for a simple slot. Perfect for beginners who are not fazed by bonus features, this straightforward slot could not be more simplified. Who needs bonus features anyway, when you can win up to €250k?