Stampede Jackpot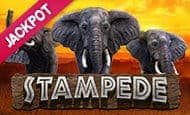 Stampede Jackpot is a Safari themed UK slot with a jackpot twist, developed by Eyecon as an addition to one of their most popular slots. 
Stampede Jackpot Slot
Based on a nature theme full of wild animals, this slot joins hundreds of other Safari themed slots at this casino - and it certainly puts up a fight of being one of the best. If high payouts and unlimited multipliers are your thing, you will particularly enjoy this game and all it has to offer. Some of the incentives of this slot include unlimited payout potential, unlimited free spins, a jackpot feature and the chance to use 243 ways to win. All signs point to big payouts and a high variance in this online slot, two priorities of all players. Try for yourself at RoseSlots.ie and take full advantage of our welcome offer to receive 500 Free Spins on your first bet, for a chance to win big cash payouts with a higher variance. 
African Safari Fun
Stampede Jackpot takes you to authentic nature territory, based in Africa with a Safari concept to it. In this Eyecon development, you come across all signs of wildlife from big cats to elephants. If you are an animal lover, and a fan of well developed slots, then consider this your new favourite slot. The visuals of this game may look familiar, as they are exactly the same as Stampede - all with added bonus features and a stronger payout to get excited about. The reel format sticks to its usual 5 reel, 3 row design which is incredibly easy to use. This beginner friendly design also makes use of a super generous betway system of 243 ways to win - this offers all directions and a much better chance of winning than other standard betway systems. 
Unlimited Wins
The best part about Stampede Jackpot is definitely the chance to win unlimited potential, which means the chance to win up to 10,000x your stake is available in this slot. As a Jackpot slot, you can also enjoy the benefits of a progressive jackpot, which means big payouts and lots of winning potential for players. Although, as a jackpot slot, you can expect to find a lower variance in a 93% RTP rate, which Is a very small price to pay for such a big payouts. There is also a rare addition to this game which allows you to pet up to €50 per spin, which is very rare for these developers to offer you.
Brilliant Free Spins
In Stampede Jackpot, you can come across incredible bonus features which give you an extra boost in your variance and also offer a chance to win unlimited wins. There is a fantastic Free Games Feature, which offers a chance to win unlimited free spins as well as unlimited multipliers – this is easily one of the best part of this game as it unlocks the chance to win some serious cash payouts. As a jackpot slot, you can also expect to find progressive jackpots and a  jackpot features in this high-value game.