Shamans Dream Jackpot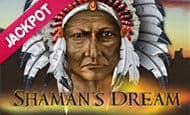 Shaman's Dream Jackpot is a spiritual themed UK slot developed by Eyecon - One of them more classical titles which is known by hundreds of players as one of their most popular games. 
Shamans Dream Jackpot Slot
This version of the slot is the jackpot version, which means you are working with a slightly lower variance in the hope to win much higher jackpots. With a whopping 9,500x your stake up for grabs, you can definitely see why so many players opt for this jackpot version. There are also exciting bonus features to be accessed, including free spins, jackpot multipliers and more. If you loved Shaman's Dream and want to explore something slightly more challenging with much higher benefits, then you need to try this game. Play it online at RoseSlots.ie, and we will add 500 free spins to your first bet as part of our 2021 welcome offer.
Spiritual Themes
Shaman's Dream Jackpot is one of Eyecon's most popular UK slots, based on a native American and spiritual concept. The graphics of this lot are of the usual high standard offered by these developers, featuring a range of totem and Indian themed symbols scattered across the HD reel. Talking of the reel, it sticks to basics at a 5x3 reel design - this is perfect for beginners getting started out, and also frees the main game of complex design features. Eyecon have added the generous betway system of 25 ways to win, which allows you to make paylines across all directions for a higher chance of winning – and as a jackpot slot, you need all of the help you can get. Eyecon have made this slot entirely possible, compatible with all mobile and desktop devices to join you wherever you are.
9,500x Your Bets
Shaman's Dream Jackpot Is a jackpot slot, which means you can expect much higher jackpots than the main version of the slot. This comes with a price of lower variance, shown in the 93% below average RTP rate. Although this adds a little extra challenge to the game, the rewards make it more than worth it. You can win a huge 9,500x your stake, which is huge even for Eyecon's usual standards. Unfortunately, you still have the maximum limit of €12.50 per spin in this game, although the higher multipliers allow you to bet small and still win big in this rewarding online slot.
Gamble & Spin
Shaman's Dream Jackpot offers all of the usual exciting bonus features which we expect from these developers. There is a free spoons bonus feature which can unlock up to 400 free spins, giving you an extra helping hand in reaching that generous jackpot. With every free Spain comes a multiplier, which can travel your payouts one through a free spin to make them even more exciting. After every win in the game you can opt into a gamble feature which can also double your payout, for much higher returns and payouts.