Fluffy Too Jackpot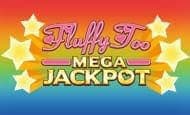 Fluffy Mega Jackpot is the high value UK slot by Eyecon, featuring their famous Fluffy Favourite characters. These stuffed animals have made quite the impact here at Rose Slots Casino, being one of the most popular slot series to play - with a wide range of games and themes to explore. 
Fluffy Too Jackpot Slot
This version of the colourful animals is the highest value slot, the Jackpot version to the entire series. If you loved the other Fluffy Too Jackpot and want to win bigger, this jackpot slot is the perfect option. With Double Wins, up to 10,000x and even Free Spins available, there is lots to be won in this fantastic game. Play Fluffy Mega Jackpot today at Rose Slots to try your own luck, and get 500 Free Spins on your first bet as a welcome offer.
Cute & Fluffy
Fluffy Mega Jackpot is part of the Fluffy Favourite slot series by Eyecon, based on a range of colourful and adorable stuffed animals. This slot is as adorable and fluffy as the other versions of the game, with colourful and cheerful visuals throughout. This is a classical Eyecon slot, full of bright graphics and a lighthearted theme. This is one of the newer versions of Fluffy Too Jackpot, so expect brilliant quality graphics and compatibility across mobile and desktop devices. This slot takes you to a fun amusement park, for a unique turn of events. The slot consists of 5 reels and 3 rows, fitted with 20 ways to win - the usual choice for Eyecon developers.
10,000x Wins
Fluffy Mega Jackpot is known for being a valuable jackpot slot, which means big wins across the game. There is a huge jackpot of 10,000x your bet, which can produce brilliant cash returns. One unique thing about this slot is that you can bet higher than other Eyecon slots, with a maximum limit of €50 per spin. This means you can bet bigger and win bigger than the other Fluffy Too Jackpot UK slots, with up to €500,000 available to win. There is one catch to the jackpot version of this slot, which comes in the form of a lower variance. With an 89.9% RTP rate, winning is less likely - but all the more worth it.
Gamble & Win
Fluffy Mega Jackpot features a huge range of exciting bonus features, many of which help you out in hitting the €500K wins. These include a Gamble Feature, which you can opt into after every win to potentially double your wins - for up to €1million! Another exciting feature is a Free Spins Bonus Round, which can be re-triggered to win up to 500 Free Spins. Finally, this slot also offers a Jackpot Feature, the unique touch to this version of the series, which can offer bigger and better payouts than the rest of the slots. As you can see, this is one of the best Fluffy Too Jackpot slots available to play with better bonus features, bigger payouts and more action than ever before.