Enchanted Prince Jackpot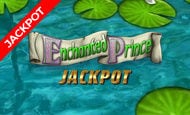 Enchanted Prince Jackpot is a fairytale themed UK slot developed by Eyecon, bringing the excitement of a Jackpot slot. Based on a magical theme, this slot is one of the favourite slots developed by Eyecon, which gives you a classical and modern theme combined. If you enjoy fairytale themes and big wins, this slot is perfect for you. 
Enchanted Prince Jackpot Slot
As the jackpot slot, you can expect bigger payouts including the chance to win up to 9,500x your stake. Jackpot slots are a great choice for those looking for a bigger challenge, as it gives you a lower RTP at the cost of a huge jackpot. Other special features in this slot include Jackpot Feature, Gamble Feature and Free Spins. If you loved Enchanted Prince, you will love this slot even more. Play it today at Rose Slots Casino and we will give you 500 Free Spins on your first stake, available on your mobile and desktop devices. 
Magic & Wonder
If you are a fan of Eyecon, you are sure to have heard of their Enchanted Prince slot, which is based on fairytale themes of magic and wonder. Set in a traditional looking castle, this slot is ideal for those with an interest in fairytales and love stories, designed with the usual cartoon aesthetic of all Eyecon slots. This slot looks exactly the same as the original version, being 5x3 reels in size with the usual symbols such as princes and royalty. However, the twists of this slot can be found in the payouts, variance and bonus features. The payline system stays the same at a fair 25 ways to win, allowing you to enjoy the original version for everything you love - with the excitement of added features. 
9,500x Stake Wins
Eyecon make Jackpot versions of all of their popular UK slots, so it is only fair they make one for their Enchanted Prince game. As a jackpot slot, you can expect two things from the slot - a lower variance than the original and a much higher payout. You can win up to a huge 9,500x your stake in this game, for a much more exciting incentive. Although, this comes with a small cosy of lower variance with a 93% RTP rate - but if you are up for the challenge, prepare to reap great benefits. Eyecon never usually allow stakes over €12.50 per spin and this slot is no different, keeping the bet value low whilst also offering much higher wins – something most developers struggle to achieve. 
Varied Bonus Features
Enchanted Prince Jackpot offers some of the usual strong bonus features offered by all Eyecon slots. The Jackpot Feature adds a unique jackpot win to this slot, for wins of a much higher value. There's a Free Spins Bonus round up for grabs, with a whopping 400 Free Spins waiting to be won. Alongside this, you have multipliers and a gamble feature which are designed to increase all payouts across the slot.