Casino Solitaire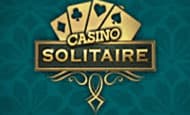 Casino Solitaire is a classical UK slot developed by Gamevy, based around the famous game of Solitaire. This slot is developed with the latest technology, allowing you to access everybody's favourite card game from the comfort of your own home with mobile, desktop and tablet devices.
Casino Solitaire Slot
This slot brings some casino nostalgia by offering a traditional game in the form of an online slot, perfect for those looking for a card game with strategic gameplay involved. To step outside of the norm of spinning reels and hoping for the best, card games like this online slot are perfect. Try this modernised version on your choice of device here at RoseSlots.ie, with a welcome offer of 500 Free Spins added to your first stake. 
Classical Card Game
If you have ever played Solitaire before, you need to try Gamevy's modernised slot based around this card game. This slot involves more strategy than your typical online slot, as there is more to Solitaire than spinning reels and hoping for a winning payline. In fact, this slot is completely different to most games here at Rose Slots Casino, so if you are looking for something completely unique, try this game for yourself. There are no reels or rows, only stacks of cards laid out in the usual Solitaire format. There are also no betways, only various interactive buttons to help you make your move. The graphics of this slot are pretty impressive, but also rather basic. There are no major themes to this UK slot, just a traditional Solitaire card table. With various animations and transitions, there is a touch of modernity added to this development.
The Rules
Playing Casino Solitaire is all about swapping and transferring cards to make a certain value, which is rather simple to understand but also may throw beginner players off at first. The seven stacks of cards are designed to be placed in ascending orders, which involves card swapping from the bottom of the deck only. Although this sounds far trickier to play than the average UK slot here at RoseSlots.ie, it does come with its fairness and benefits. The overall chance of winning in this slot is down to a generous RTP of 96.8%, which is highly volatile and promising. As in all slots, your betting options are limited with a range of €0.05 and €6 per spin to explore, keeping your bets on the lower side of value. The maximum you can win is a 200x your stake payout, which is pretty good for a Solitaire game.
The Magic Of Solitaire
If you loved Casino Solitaire, you will be happy to hear that there is a wide range of card game inspired slots available at Rose Slots Casino. These slots are perfect for advanced players looking to use some strategy in their games, as opposed to simple slots. For more slots similar to this Solitaire inspired game, try Retro Solitaire by Gamevy for something a little different in terms of design and visuals.