20p Roulette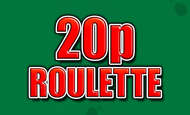 20p Roulette By Inspired Gaming
20p Roulette online by designer Inspired Gaming makes players feel as if they have stepped into a classy casino to spin the wheel on a traditional European Roulette table. What is great about this online casino game is that there is no over the top frills or unnecessary animations, it is simply what you see is what you get. The entry to the casino is at Rose Slots Ireland, where you can enjoy spinning the wheel to win.
While the visual are flat rather than 3D, 20p Roulette online has nicely coloured illustrations that are not distracting and well organized. To the left is the roulette wheel, just as you see in a casino, while to the right beside this is the paytable (ie the 36 number spaces corresponding to the wheel as well as odds on black or red, green 0, the 1st of 12, the 2nd of 12, and the 3rd of 12, Even and Odd itself). On top of this is a convenient AutoPlay for a certain number of back to back and consecutive spins, to create a seamless gameplay. And there is also a 'Turbo Spin' button to spin the wheel faster so you do not even have to wait the standard amount of time for the wheel to spin and the ball to settle. Because this is a roulette online casino game as opposed to an online slot, one thing players will likely notice is the extremely generous overall total Return to Player (or RTP) at around an estimated 97.3%. This is because, while the stakes may be higher so too are the awards that can be won on any spin of the Wheel. A 97.3% overall Return to Player places 20p Roulette online into the higher variance level in that you have a much better chance at being awarded a top 'jackpot' type of reward (despite this happening less often) than a smaller reward that happens more frequently. What else contributes to this is the massive betting span that players can utilize which goes from a minimum of 20c (as is contained in the slot title) to a max of €10,000. You can reach this maximum bet with more pay types, however if you are just looking to wager on a single number this goes up to €1,000 and then goes upwards by €1,000 per additional number (for example, max bet for 6 numbers is €6,000). *All values mentioned in relation to this game are subject to change at any time.
Inspired Gaming, as an online casino games developer, does a great job at keeping an otherwise straightforward type of gameplay immersive and engaging. In fact, many players will soon discover that spinning the roulette wheel in 20p Roulette online is overall really calming and meditative. There are no over the top flashy animations or elaborate special features as seen in other gaming titles, and the very high payouts on offer keeps the gameplay very exciting. The ticket to the swanky casino can be found at Roseslots.ie, where 20p Roulette online is waiting for you to spin the reels and experience the thrilling rewards to be won.